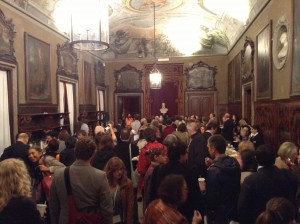 In Palermo,few days ago  took place a very interesting symposium on Islamic Art  sponsored by Virginia Commnwealth University(USA),VCU Qatar,Qatar Fondation and Hamad bin Khalifa University.
The matter was " Light in Islamic Art and Culture "
The experience, to attend the symposium based on such high level of studies about this subject ,was very exciting to me and I had the great opportunity to meet many people very knowledgable about Islamic Art and Culture.
In a sort of way,it was the chance to  share our different but, at the same time, very similar culture and art ,guiding them to visit Palermo heritage of arabic style such as Cappella Palatina,San Giovanni Eremiti, Zisa ..
I had a great emotion to see  strong feelings in their eyes gazing at the details of the  wonderful monuments of islamic art of Palermo.
The closing of symposium took place at Butera Palace ,a beautiful baroc palace,where I explained the story about the owner family and about the artist who enriched the palace…and to me, to speak to   such an important audiance…that  it was an experience!!
Raffaella,your guide in Palermo