Walking through the old Palermo city,fascinated by the baroque churches with the rich marble decoration,attracted by the red cupolas of the Norman Age churches enriched by the golden mosaics…suddenly…you will be surprised to discover another side of Palermo Art:
the Street Art and the Writers!
Colourful graffiti ,faces,strange figures ,mirror of an hidden culture which is becoming more and more popular!
Street Art characterizes the old quarters of the city, walking in the streets among the old buildings …. a fantastic graffiti comes out on the wall and it speaks to you whispering the existence of a New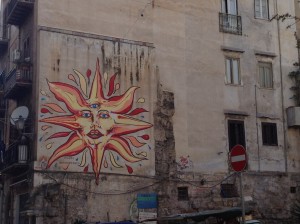 Art who denounces an alternative way to express the inner thoughts and idea of a way of living.
Come to discover the other side of Palermo Art!
…guided by me!
Raffaella